Representatives of the BRIGAID project in Albania participated in the International Conference of Civil Engineering (ICCE2017), organized by the Polytechnic University of Tirana and the Polytechnic University of Pristina, on 12-14 October 2017.
The BRIGAID project was presented through a poster, as well as through the dissemination of promotional materials (leaflets, brochures, poster, etc.). The poster presentation section was held on 12-13 October 2017, in the auditorium of the Faculty of Civil Engineering. This conference was attended by: private companies, research institutes from Albania and Kosovo, researchers, the pedagogical staffs and students of various universities from Albania and Kosovo.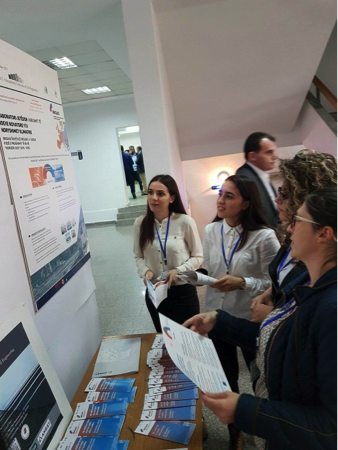 During the presentation of the project, the researchers and students showed special interest and expressed their willingness to be part of it, as well as to develop the project topics in their studies. The representatives of the University of Pristina showed interest as well and considered the project as a novelty in the field of disaster resilience. Some of the interested participants from the University of Pristina expressed their willingness to share the information about the BRIGAID project in some institutes in Kosovo which are mainly focused on innovations.
Subsequently, in the section of abstracts presentation, Mrs. Lalaj presented the BRIGAID project, its vision, the products/innovations that are being tested, as well as those innovations being considered by the project and thereafter supported by the project to reach the market.
The conference was concluded with the expressed interest and willingness of the private companies, institutions and universities to be part of the BRIGAID project as well as the interest to develop or create innovations in relation to climate changes, especially as regards flooding and extreme weather.
On 3 October 2017, Mrs. Lalaj published in an online environment magazine "Mjedisi Sot", an abstract named "BRIGAID [HORIZON2020] – URA me TRI Harqe" e Novacionit" ("The Three-Arched Bridge of Innovation").
This publication provides a brief summary of the BRIGAID project, the meaning of the name BRIGAID and why it is named "Ura me Tri Harqe" ("The three-arched bridge") (Social and Technical Readiness and Market Outreach).