BRIGAID SUCCESS STORYEVAPO-CONTROL
EVAPO-CONTROL by ARANA company is a floating modular system tested operationally to resist high winds, made out of proven UV resistant material, scientifically proven to decrease evaporation by 80% in semi-arid conditions and to suppress evaporation losses and algae growth in water reservoirs, easy deployment and with no need of maintenance.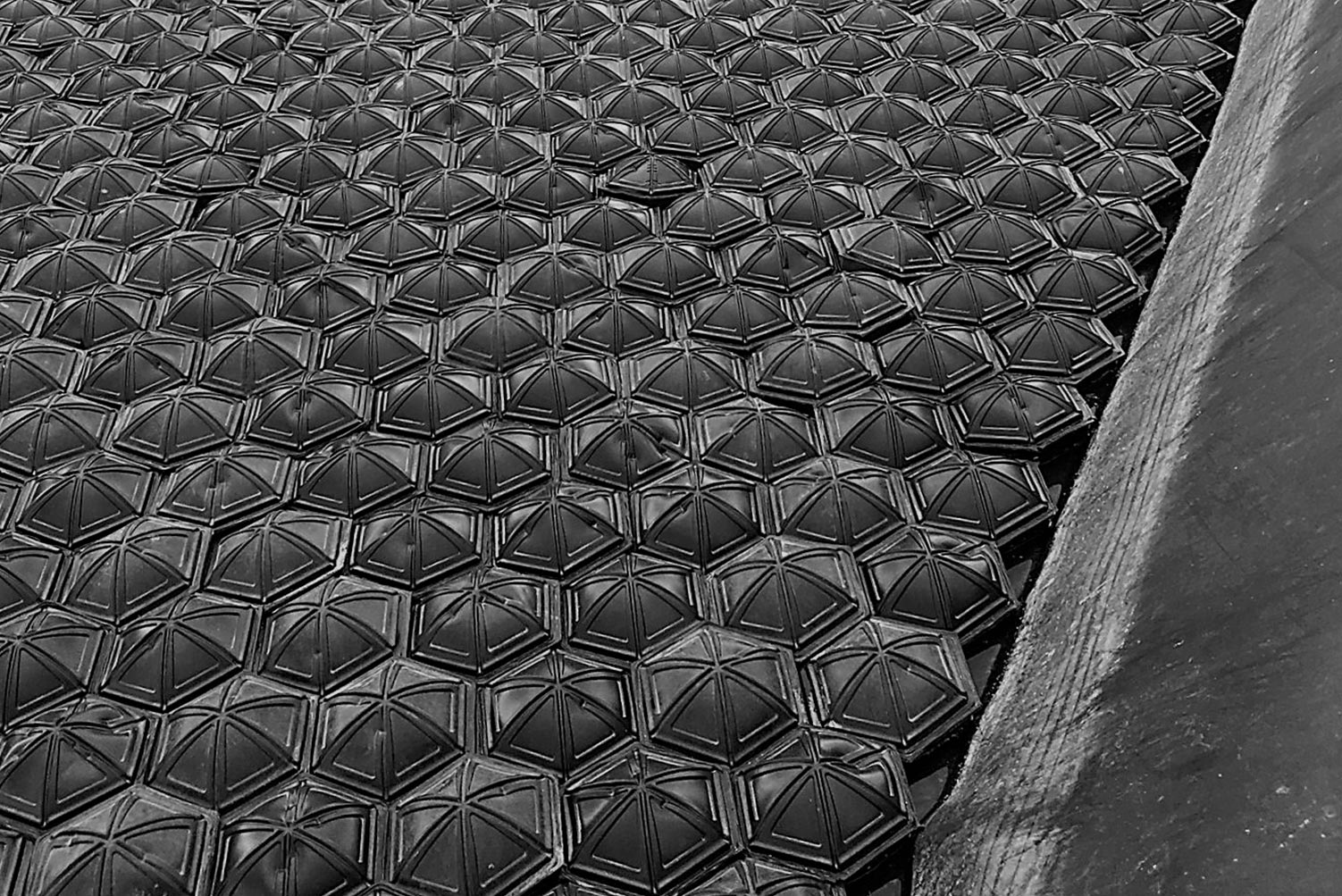 From your point of view, how has BRIGAID contributed to the development of your innovation/company? Which specific support provided by BRIGAID was most useful to you?
The BRIGAID project has contributed in a very important way. The most useful was the clear methodology to follow in the different stages of the project development.
BRIGAID provided us with tools that helped us situate ourselves and assess our TRL stage so that we could clearly interpret what our state of technological advance was and how we should approach the next steps and immediate scientific studies. We substituted part of our intuition for method and rigor.
At the same time, it gave us a boost that is very valuable in the initial stages. This helped us carry out laboratory tests and field tests, and commission external studies from entities specialized in plastic. On a practical level, it enabled us to test prototypes of floating modules in real ponds.
The support of various project experts and the TIF and MAF tools helped us to identify the pros and cons of the achievements, both at the company and product level, and to appreciate the strengths and weaknesses we should work on.
The TIF tool was initially hard to use and very useful once understood, it helped us specially to evaluate the environmental impact of our innovation.
The MAF tool was very clear, simple and easy to use. We could measure qualitatively the evolution of the project and estimate our projection.
We could not say which support was the most important, perhaps the economic one because it allowed us to carry out tests that without such help, we would not have been possible. Anyhow, the three support streams were decisive for focusing on objectives and providing a more technical and scientific approach in our innovative path.
Please let us know about your progress and expectations after receiving support from BRIGAID,
BRIGAID help left us in TRL8 and ready to go further for extra financial round which took us to apply and obtain SME-Phase 1 support.
Arana has already started selling the EVAPO-CONTROL coverage system in Spain and Portugal since 2020, having carried out 7 installations so far. We have a first production line for the manufacture of the EP G4 and EP G4.1 business model in Lorca, Murcia.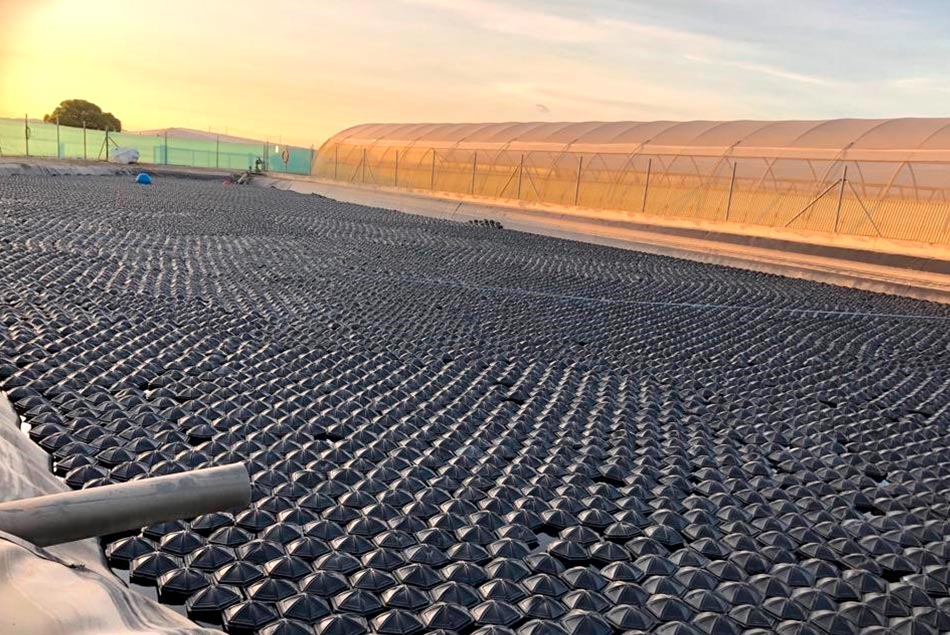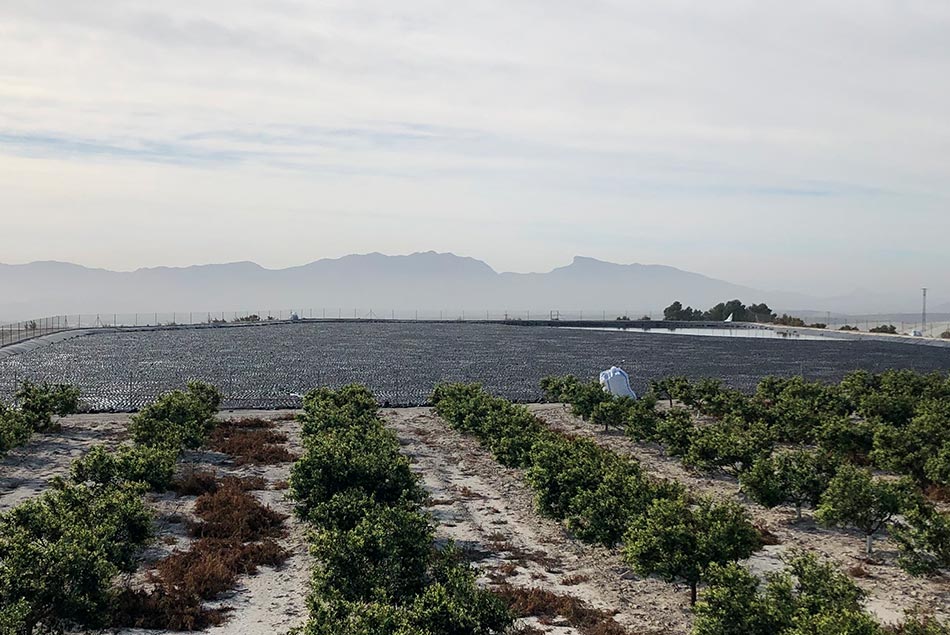 Your value propositions
EVAPO-CONTROL is a solution based on isolated floating modules that reduces evaporation by 80% through a very simple installation -as it involves simply direct pouring -, that is adaptable to the geometry of any raft and slope. In addition, it allows the installation of any continuous or discontinuous floating element.
They automatically rise and fall with the water, thus adapting to emptying or to any flow operation in the pond. In addition, by suppressing exposure to light, they eliminate algae usually present in the water.
The floating modules are made of 100% recyclable and reusable HDPE, and thanks to their technology they have proven to be resistant to winds exceeding 80 km / h on covered surfaces of more than 1 hectare. It has a life span greater than 15 years and the price ranges between € 9.35 and € 9.75 / m, depending on the dimensions of the order and other logistic aspects.